2nd Wednesday of the month
Children who are able to read alone or with assistance are invited to join the adorable pups from Creature Comfort Pet Therapy for a monthly read-aloud session.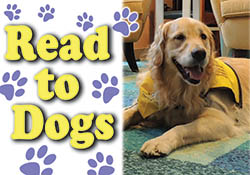 Sign up for a 15 minute time slot to read to a registered therapy dog! Children are invited to bring their own book from home, or to use any book in the library. (If you are using a library book, please arrive early so you are ready by the time your slot begins). There will be 8 slots per session, and sessions will run on the 2nd Wednesday of every month!
This program is free and open to the public. However, registration is required. When registering, you may use initials instead of a name. Please arrive in the Children's Room early with a book prepared. This program is recommended for all aged children who are capable of reading alone or with assistance.
Please click here to register via Signup Genius.